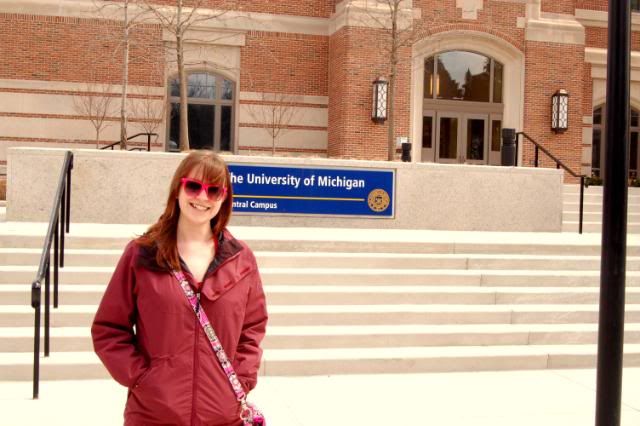 Last weekend I took Kid Z on a college visitation to the University of Michigan. The timing was good because I needed a little break from work and Zoe needed some away time from her pressures at school. It was a great weekend that brought back happy memories of my own college days, even though those days stretched in a sporadic hit or miss way over nearly 15 years. I made my own way(mostly) through college winding my way through three universities before finally managing to snatch a degree from the jaws of poverty, despair and a doomed Chemical Romance...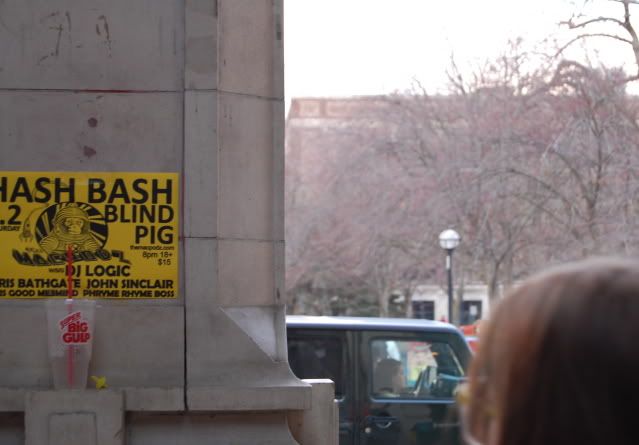 U of M is in Ann Arbor, which is very familiar to me. My wife used to have her art up in the Ann Arbor Arts Council and at a small gallery just off the Diag in the heart of campus. This was when Zoe was in late elementary school. We used to travel over from the west side of the state about once a month to switch out art and take in the town. Z's love for the University and Ann Arbor grew out of those trips. This weekend we even stayed at the same hotel we stayed at on the last trip we made to Ann Arbor as a family. My wife pulled her art from Ann Arbor because it was just too far away, and by then she was getting too ill to travel far.

We got into town and were immediately caught in a gigantic traffic jam that had us creeping along for an hour to get the mile to our hotel I couldn't figure out what exactly was going on until much later when we were walking through campus and I caught this sign...it was the annual Hash Bash - a celebration of all things marijuana. There were easily ten thousand stoned visitors floating around the campus. For me, it presented a weekend-long teachable moment for my kid. I'm all for legalization, but for now its an illegal substance and my kid is a minor so I'm going with the Party Line. However, Hash Bash made for a lively weekend. of people watching and I bought a really cool fridge magnet with the Man in the Moon sucking on a hookah..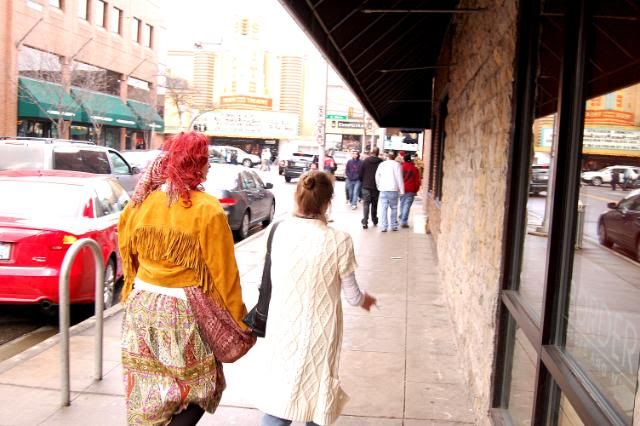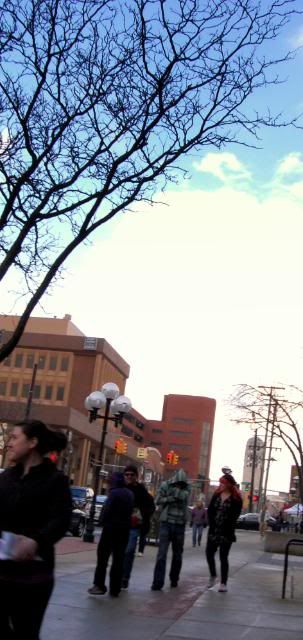 U of M was a hot bed of student protest and activism in the late 60's and into the 70's. Sort of a Berkley of the Midwest. Evidently those stirrings of revolution and protest still exist as evidenced by the graffiti on the wall of a bank downtown....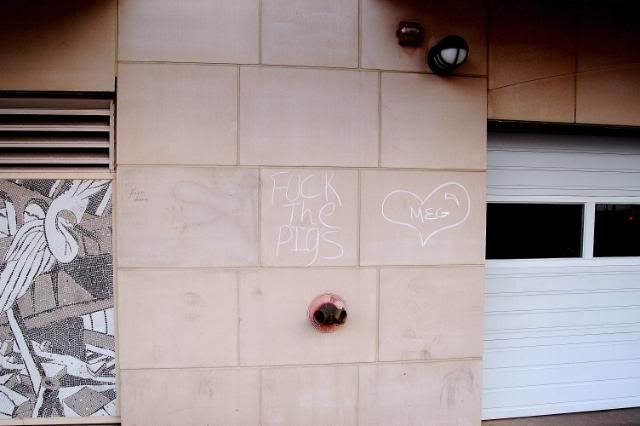 We visited a lot of the academic buildings, peeked into some dorms then, after getting the drier part of the visit out of the way, we went to do some window shopping. Z was thrilled with all of the funky vintage clothing stores, but her favorite was this one that had an entrance that was marked with a xeroxed paper sign on a door in an alley. Z didn't want to go, but I told her to think of it as an adventure and be brave. Through the door and down two flights of narrow, dark basement stairs lead to what looked like a badly finished basement utility room decked out with cheerful lighting and retro brik-a-brak.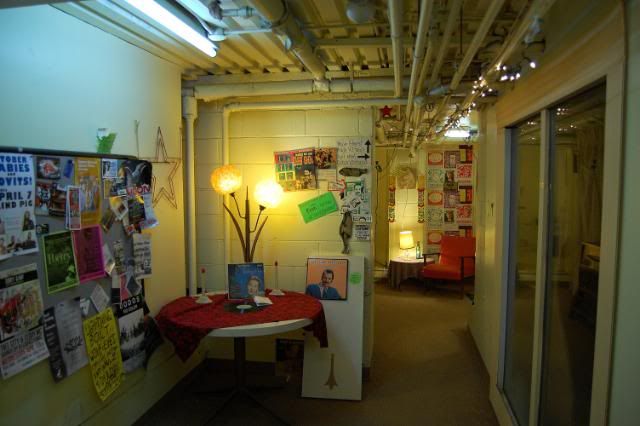 Further in was the 'store" which was basically two cinder blocked rooms filled to overflowing with the fashion detritus of decades past. The place was being run by two happily stoned but very attractive women who's enthusiasm for their work was matched only by their apparent heart-felt passion for The Herb. Zoe had a ball trying on dresses I swore I had seen my mom in, and I found a crushed blue velvet tux with enormous lapels and even bigger bow tie that would have made even the ultra-cool Don Cornelius green with envy. This is the place where I bought the fridge magnet (after a nice long conversation with the older of the two proprietesses and an exchange of e-mail addies) and Z bought some sunglasses for ten bucks.
We left the store and trotted on up the street where we looked into Urban Outfitters then to a giant campus wear store so Z could buy a Michigan sweatshirt. Then it was lunch and some interesting encounters in the afternoon.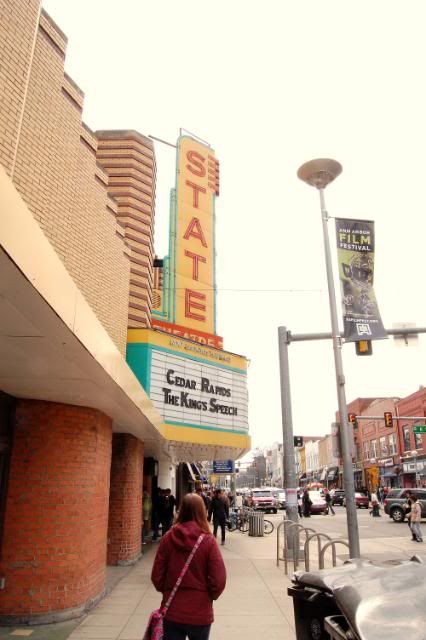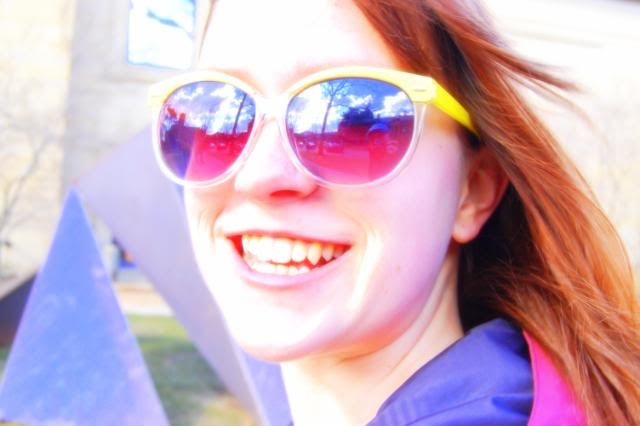 Current Location:

Tulipana

Current Mood:

busy

Current Music:

Genesis - "Supper's Ready"