This past weekend I hauled out the lawn furniture from the garage in the hopes that actually performing this Spring ritual will stave off any more snow or ice storms until October. Got everything arranged then went ahead and tried to start the lawn mower (Thor) and lo and behold the Mighty One started on the first pull. Putting gas stabilizer in the tank last fall when I put Thor down for the winter was a good idea, methinks.

I got all the lawn toys out, wind chimes, window boxes, etc. and set them up as well. My sister sent me a rain chain for my birthday and I started scoping out a place for that to go. Your supposed to hang it from your gutters, but since I don't have any of those I'm going to have to MacGuyver a solution. The rain chain is one more piece in my plan for an asian/mexi/dutch theme mess for my patio and yard decor.

After I got all done with that I poked around in the garage with an eye towards getting someone to come take some of the stuff in there that I don't need. There are two huge Steelcase desks and a four drawer filing cabinet that I have no use for. I started going through the drawers and found a treasure trove of stuff. When we moved three years ago, my wife must have stashed things in the file cabinet in the heat and rush of the move. it was a horrible moving experience. Never, ever move yourself from one town to the next in the dead of winter. Anyway, I found all of these photo albums with family pics I don't remember having.,,and boxes full of mementos and tchotkes that I thought were long gone. My wife was a pack rat. These days you'd call her a hoarder. Not an extreme case, but a hoarder nevertheless. The desks were full of art supplies...oil paints, watercolors, glass rods for bead making, all kinds of wire, buckets of gesso, rolled up canvas, sheets of iridescent glass, pads of rice paper, and everywhere were scattered brushes, pallet knives, pencils, pens, rapidiographs, Sharpies...on and on. I never looked in these things - I assumed they were empty. I have to now go through all of it and make one hell of a donation to the local arts council.

I'm enjoying going through the pictures and the knick knacks, though. My wife had eclectic tastes - I like different stuff, but she really had an eye for the weirdly wonderful. Two things I thought were gone forever I found in the bottom drawer of that giant file cabinet....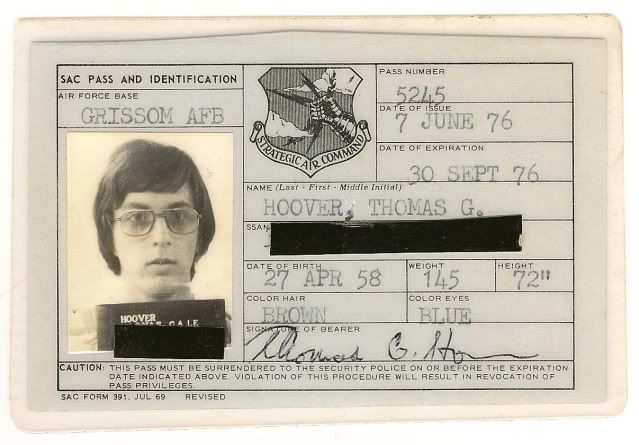 My SAC pass (redacted) from when I worked at an Air Force Base as part of a civil service program to get teens summer jobs. Only, i wound up working there throughout the year part time. It was a great job - I did all sorts of things there. I was a life guard, I was a caddie, I painted airplanes and mowed the grass at the end of the run ways. I was a janitor at base ops where the flight tower was. I got to meet the Blue Angels and got to see SR-71 spy planes up close (I had a flight line pass also). But the best job was personal assistant and general gopher for the base commandant at base headquarters. I'd clean his office suite, make coffee, buy groceries, drive his wife around and pick up dry cleaning. The commandant would fly out to Colorado twice a month to pick up Coors, which wasn't sold east of the Mississippi, and I'd get overtime helping to unload the stuff when he got back. Oh - that was a hell of a job, that was. To this day I kick myself for not taking the civil service exam and spending my working life sucking off the teet of the taxpayer. My brother was in the program too and stayed with "government service" - he's a millionaire now. He loves this country. I blanked out my SS# - in those days no one was worried about ID theft so most of the time your ID number and SS were the same.
This is a really dim picture of my first crew when I started my job at the university back in the 80's. The little dude in the t-shirt was named Juan and I can't remember the name of the other guy- he was a student Worker. We worked the graveyard shift, cleaning up the kitchen and taking in the overnight deliveries. Juan was a refugee from Cuba who came over with the Mariel boat lift when Castro allowed anyone who wanted to leave the country. Thousands left for Florida by any means they could. Juan made the trip in a 1950's vintage Carver 25 foot power boat with about 30 of his countrymen aboard and the boat wallowing in the sea up to the weather rail. I remember a lot of good times with Juan - I particularly remember the time I took him and his wife to a Marshall Fields department store. They were so overwhelmed by the opulence and abundance of goods that they were in tears most of the time. Juan said it was like Heaven to him.

I can't wait to see what else I find in the garage....
Current Location:

Tulipinia

Current Mood:

amused

Current Music:

Neon Trees - "Habits"