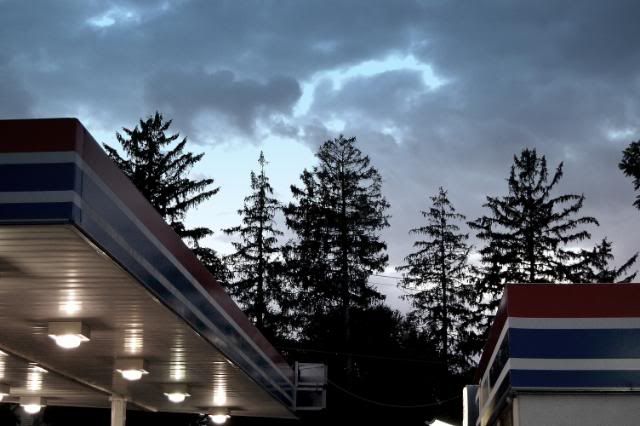 Had a woman tell me once it wasn't love, it was infatuation. I admit I didn't know the difference at the time, but I got a handle on it now so I'm pretty sure I can tell now that I'm infatuated. Not with another person, mind, which would be far more interesting, but with certain places and objects I come across on my daily tramps around the neighborhood. Even though I'm on my feet all day and I walk a couple miles to work, I still take a stroll for a couple blocks to help wind down and clear the head after work. I usually take my camera and it was when I looked at about a month's worth of shots from these walks that I saw a pattern. I keep taking images of the gas station down the street, the moon, an ivy covered house and houses on a particular street. The gas station and the Ivy House comprised the bulk of the images. Like some sort of artist becoming fixated on a single subject I seem to have fallen into a sort of rhythm with these things. Like a needle stuck in a record. The objects seem static and unchanging, but I see different things every time I look at them and I myself see differently every time I walk by them. I'm usually walking at dusk or in the middle of the night so I don't have many pictures from the morning or afternoon. The gas station has cheap prices and its always busy, but I like taking pictures of it without people or cars.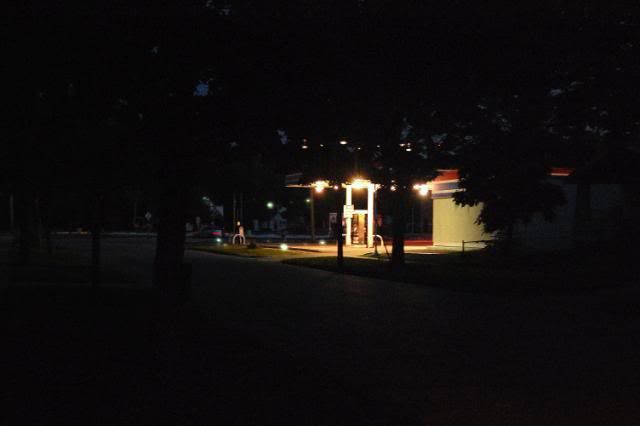 I enjoy the gas station because at night it's lit up like one of those UFOs in "Close Encounters of the Third Kind". In great contrast to the surrounding neighborhood which is usually very dark. Evidently I'm different from most folks around here in that I like a well lit house. I don't like walking into dark rooms so if I'm downstairs I'll have a couple lights on while I'm watching TV and I'll have one over the stove in the kitchen and maybe one in my office. I have a small Japanese lamp I light in my bedroom so I'm not walking into pitch black when I go to bed. I'm not extravagant with the electricity - I use a lot of low power CFLs in accent lamps. Most houses around here are lit only by the light coming from the TV. Or there might be one low watt lamp in a single room, usually someplace in the back of the house. I never liked watching TV in the dark. Anyway, the gas station provides endless opportunities for different views. At least in my mind. I take pictures of everything around the gas station too - the barbeque joint across the street is a minor fixation.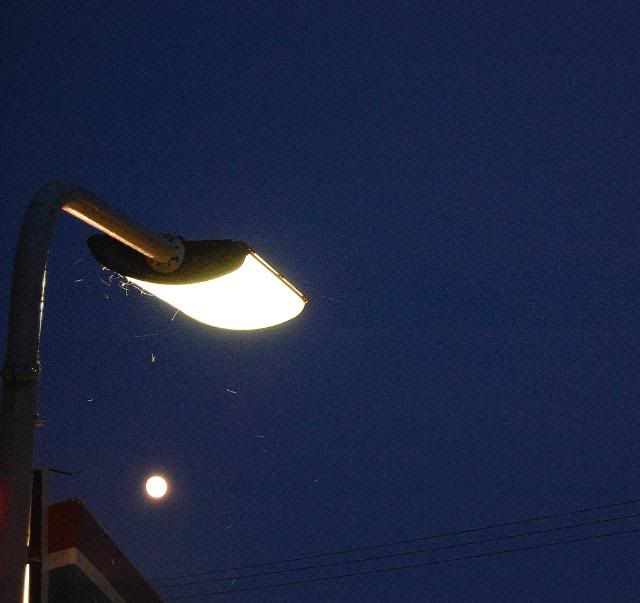 The Ivy Covered House is fascinating. It straddles the boundary between two "pocket" neighborhoods. One side is distinctly middle class (my side) while the other side is more well off with a vibe that I think screams "Ordinary People". I've never seen or heard people at this house. There are rarely cars but those vehicles I've seen are newer and well kept. The place is almost engulfed by ivy that crawls over everything on the property like kudzu. The house sits on a huge double lot which is like a jungle - or more appropriately - like the forest was in these parts before the White Man came. The house is a little run down and the front porch is full of cardboard boxes. My imagination runs in giddy little circles when I imagine what this place could be. A modern House of Usher in the middle of the city. Some mysterious house of secrets from out of a Hitchcock film. The portal to Someplace Else sitting and waiting for curious children to get a little too close. The place vibrates with possibilities and I hesitate to find out the mundane truth of the Ivy House. I like it the way it is right now; its sagging windows, bowed siding and impenetrable coat of ivy bulging with mystery and imagination.