Gluten Free Crab Cake topped with coconut "yogurt" and a side of eggplant gremolata

Went to a presentation on Gluten Free, Vegan French Cooking last night. Now taking French cuisine and pairing it with gluten free/vegan cooking is like what you get when someone like Pavorotti takes it in his head to cover the musical stylings of the Ramones. I was already sending my Sous to the class along with our specialists in the needs of special diet student diners so I decided to tag along out of curiosity. I took a class last year from one of the presenters. She's a good teacher and really well versed in food allergy issues particularly Chrone's disease and Celiac. I was motivated to get updated on what's going on currently in the gluten free/vegan world. And truth be told, I was curious to see just how successful they'd be at making Gluten Free French food.
We went into town early so we could spend time going from one ethnic grocer to another picking up supplies for our exotic ingredient larder back at the college. Fresh Pita, Injera bread, pickles and Zaatar seasoning from the Halal Mediterranean market, bags of coriander and cardamom seeds, Garam Masala along with dough mix for Puri and Dosa from the Indian spice store, and finally some quality imported soy sauce, Ponzu and a bunch of Udon, buckwheat noodles and various kimchis from the Japanese/Korean place. It was fun taking some of the crew shopping - most of them had a blast even though they had no clue about a lot of the foodstuffs. A few of the cooks bowed out after the Indian store because it was "smelly" and "weird" and they were none too pleased with all of the graven images being sold there. I only compounded the issue by purchasing a really cool calendar with the store's logo emblazoned over a great painting of Shiva and a little night lamp in the shape of Ganesh. It has glowing red eyes.
The seminar was very good and chock full of new info mixed with old. It was good to review the nuts and bolts of gluten and the gluten free world. Every year I see more and more students with food allergies with the bulk of them being in the medium to severe range. Mostly nut related, dairy or gluten, but some more specific to certain veggies or fruits. Part of the reason for this rise in allergies is the obliteration of beneficial bacteria along with the harmful through the use of antibiotics. Part of it is the prevalence of genetically modified foods coming to the fore these past couple decades. Some of it is environmental. It's all inter-related, complicated and nearly impossible to undo.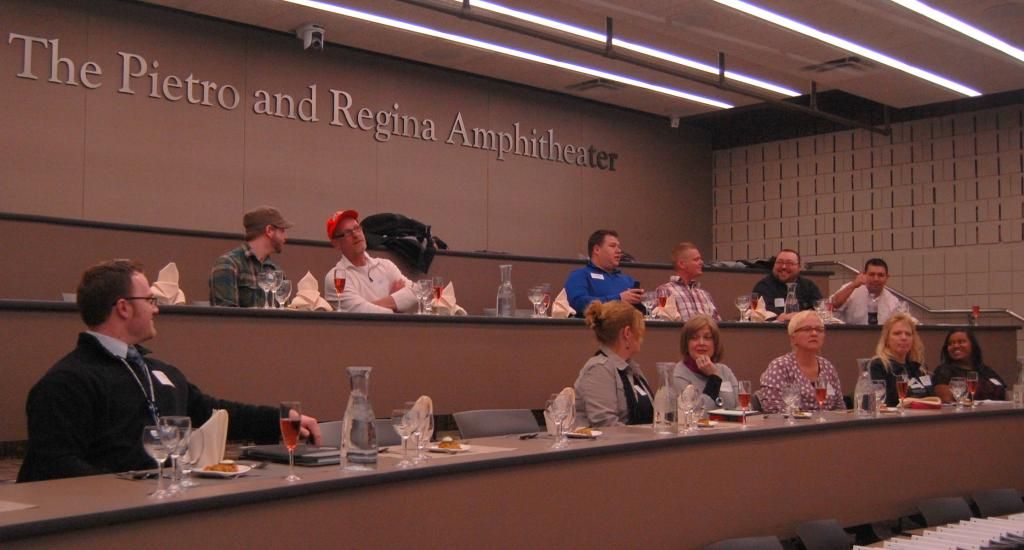 The lecture was broken up by small cooking demos that went along with the way the lecturer had her talk organized. I had never been served dinner while listening to a lecture and I must say it's not a bad way to wade through three hours of technical jargon and knotty problems. The wine pairings helped things along quite well. The food was hit or miss. Vichyssoise benefitted quite a bit from the gluten/dairy free treatment, but the same couldn't be said of that old standby, Hollandaise sauce. In fact, it's my opinion that trying to create gluten free vegan versions of any classic French sauce should be stopped with extreme prejudice. The Coq au Vin was technically a great effort, but removing the gluten from it only made it thin and lacking in body or character. Dessert was a French parfait featuring caramelized pears and cubes of sweetbread made with Gluten Free rice flour blended with Xanthum Gum. The bread was flavored with Meyer lemon and quite delicious with a gooey denseness you get with home-made pound cake. All that said, it was a good meal and impressive in the execution. Would I serve a Gluten Free French meal? No, but if in the midst of serving my version of Coq au Vin or cassoulette it's nice to know I can surprise and delight a person with Gluten issues with versions of the same dishes that won't make them sick. It's all about the hospitality.


Gluten Free Coq au Vin with Asparagus, Roasted Fennel and Hollandaise - if it looks greasy and thin,
that's because it was.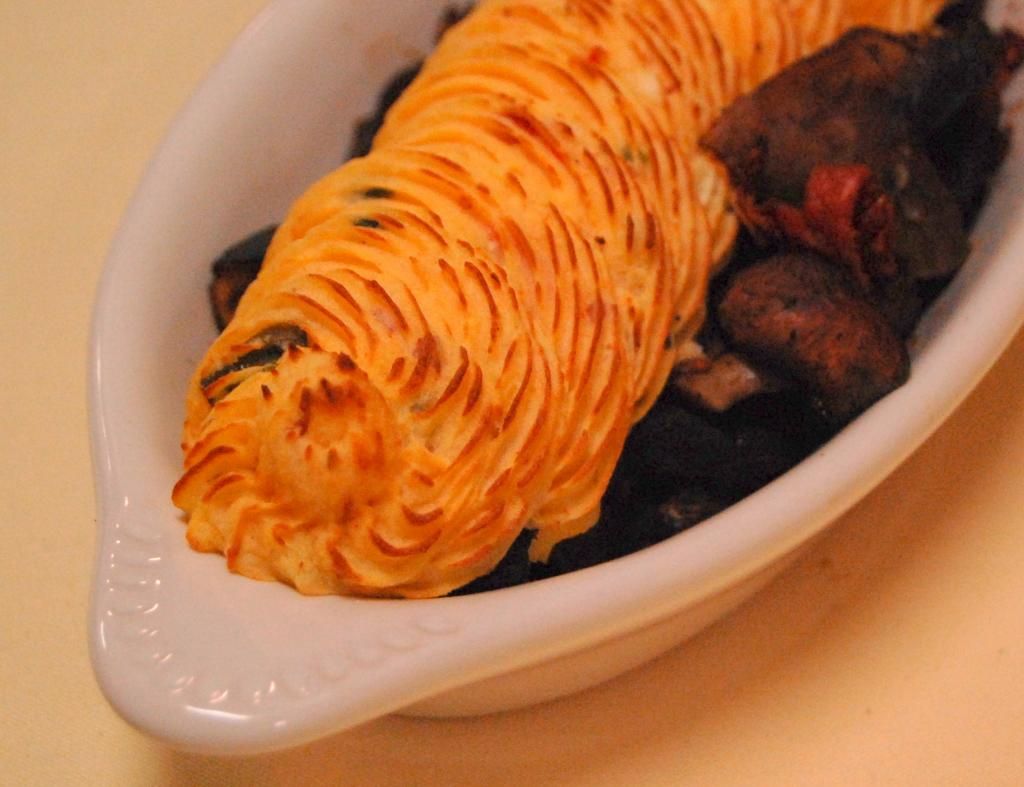 A Gluten Free dish I made today for a contest - Four Mushroom Shepard's Pie with Spicy Feta flavored whipped potatoes.