We went to Okemos today for another visit to the wonderful dance shoe store and its beautifully skilled, eccentric owner Lee, No visit to Okemos would be complete however without a short visit to White Bros music...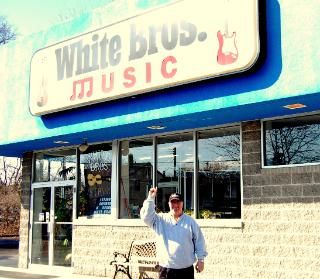 Z was there to be fitted for two pairs of ballet pointe shoes so she would have four pairs to take with her to Europe in June. Roughly one pair per week. Yeah - they wear out that fast especially with about nine performances a week. The fitting takes about an hour during which time Zoe's boyfriend, R the Trainboy and I wander off to see what's shakin' in Okemos. You would think there would be a lot going on because Okemo is right next to the campus of Michigan State University. But despite all the traffic whizzing around their were no people on the streets and a lot of the stores were closed. However, the St. Francis Cat Hospital was open for business and so was this place...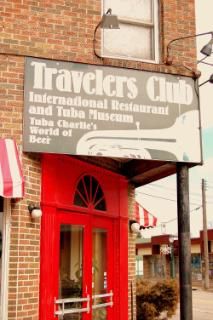 Now, I'm always attracted to small hole in the wall eateries because every once in a while you hit upon culinary treasure. As a chef I've eaten at a lot of places and I'm always on the lookout for someplace that stands out. A place that might provide some inspiration. I don't know many people who could resist checking out a place labeled as an "International Restaurant and Tuba Museum", and a bar named "Tuba Charlie's World of Beer" just screams good, clean drunken fun to me. R and I rushed back to Zoe's fitting to tell her we'd found a place for lunch. It wasn't a long walk - the dance store was just across the street. I have no idea how I missed this place on previous trips. On a side note - my boss wanted me to go to the new 50 million dollar dining hall on Michigan State's campus to check it out. Just to see this sparkly new facility in light of our own multi-million dollar renovation coming up at work. He even gave me some cash to buy lunch. I'll just have to explain to him that I couldn't pass up eating lunch at a tuba museum. He'll understand.
We picked up Zoe and I paid the bill for the shoes. After dropping that amount of cash I was definitely in need of the sort of cheering up that a tuba museum might provide.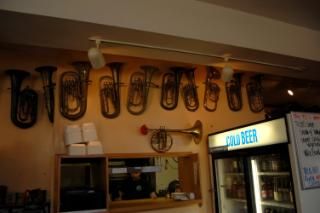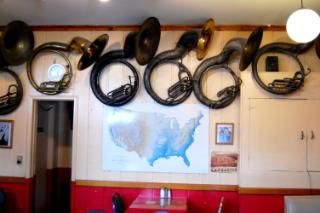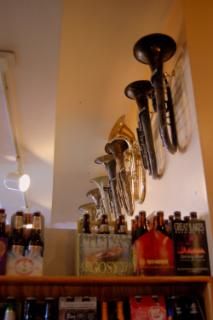 The place was aesthetically about what you would think it would be, but with a college/hipster sort of vibe. Our waitress was...er...quirky, but entertaining despite her relative inattentiveness. And about halfway through our meal the cook came out to help pull some tables together for a large party and even though the food was delicious it was still disconcerting to find that our chef had gauges in his ears the size of pop cans and was tattooed from the chin down. Oddly this bothered the kids more than it did me - I see all kinds of cooks with tats and piercings these days.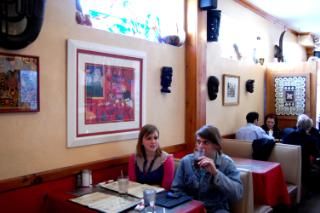 The menu was impressive in its ambition and scope. Evidently the weekly specials feature a cuisine from one region or another of the globe. This week the theme was Armenian food. This was great - I'm catering a conference for visiting missionaries this summer and they've request an Armenian menu for their opening dinner. However, I saw that all the burgers they served were made from buffalo. I love buffalo, so I skipped the Armenian and indulged myself in a buffalo burger with Cabot sharp cheddar. R followed my lead and got the same (always good when the boyfriend tries to suck up). Z-girl got a tuna melt. All of it was outstanding, but we were really waiting to order dessert. The desserts looked fantastic. R and I wanted shakes because among the unusual shake flavors was a Vernor's Shake made with Vernor's Ginger Ale which is a home grown, Michigan product that is unlike any other ginger ale you've ever tasted. Zoe ordered something called a Cookie Monster Sundae.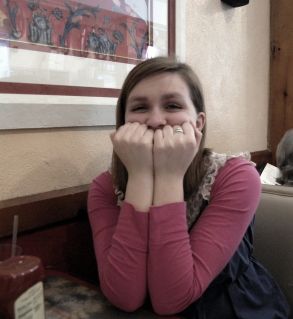 Dessert anticipation.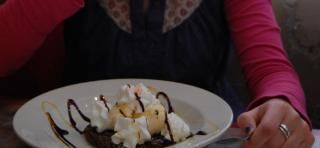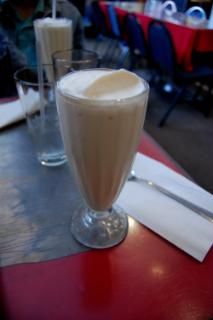 Cookie Monster Sundae
Vernor's Shake
After we were done we talked to the waitress a little about the place and she told us that the place was pretty popular with a rarefied type of clientele. She said the world's most interesting man often stopped by when he was in town to replace the flowers decorating his image at the entrance to the restaurant....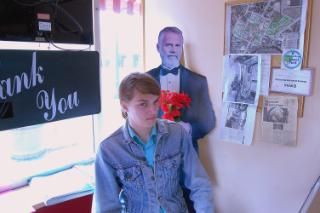 We wandered outside to check out the outside seating and the tuba fountain. It wasn't running because it's still freezing out. We all said we wanted to be sure to come back in warmer weather to see the fountain in action. I want a tuba fountain in my own back yard.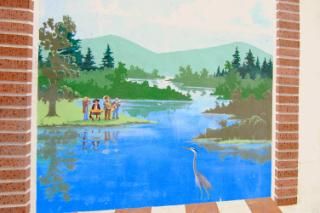 There was also this awesome mural depicting a tuba band
playing to a Great Blue Heron.
Soon it was time to leave Okemos for home, but we all made promises to ourselves to come back soon to visit what is now my new favorite place to eat and drink. "Traveler's Club International Restaurant and Tuba Museum feat. Tuba Charlie's World of Beer".