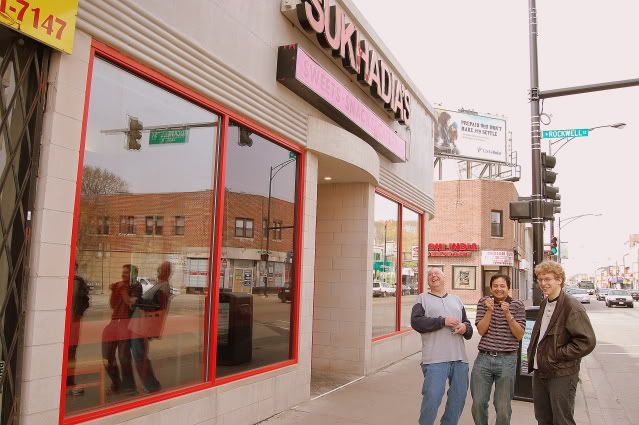 Chef Steve, Swami and Steve's son, Mike in front of "Sukadia's" snack shop on Devon street in Chicago
My friend Swami got a big promotion at work this week. He's an engineer who works in the R &D section of a major auto supplier and his promotion takes him into the upper echelons of the company. Its a pretty big deal for him and I couldn't be happier for his sucess. It was Swami and his wife Priya who spear-headed the push to train myself and the rest of the staff in my kitchen the intricacies of their native Southern Indian cuisine. Five years ago Swami and his fellow Indian co-workers weren't happy with the food offered in the corporate cafeteria that my colleague Chef Steve was supervising. As is a common trait amongst engineers, the Indian contingent identified the problem and offered Steve a solution in the form of a series of workshops open to anyone who wanted to learn. On their own time and at no charge. Up to this time my knowledge of any sort of Indian food (let alone a regional cuisine) was rudimentary. I had a few favorite dishes that I always got when I ate any Indian restaurant. Swami, Priya and crew quickly showed me the error of my ways and introduced me to the vast pallet of flavors, smells and textures that is the exclusively vegetarian cuisine of the southern portion of the Indian Sub-Continent. Turns out that the majority of Indian restaurants in the states serve food mostly native to the northern portion of India where meat is featured in many dishes and the British influence molded many common dishes like Vindaloo, Rogan Dosh, and Butter Chicken.
Swami and his crew of intrepid teacher/engineer/cooks spent about a year working through many of the dishes they enjoyed eating at home. Dishes their mothers, sisters and daughters made for them. Steve, who is a gifted cook, picked up on the lessons very well and quickly became so proficient that he was soon earning praise for his Indian cooking from his teachers. Praise that was not easily forthcoming and grudgingly given; none of the guys wanted to admit that Steve was matching or even surpassing what their own mothers could do in the kitchen. I even went on a few shopping trips into Chicago with Chef Steve, Swami, and some of his friends most notably Ravi, who was not only a highly capable and sought after design engineer, but also a Hindu priest. It was Ravi who almost had me convinced to buy a $500 formal Indian style tuxedo complete with hundreds of hand-sewn rhinestones, a beautiful silk Nehru jacket and very stylish turban trimmed with peacock feathers. Ravi is a great salesman who almost had Steve and I converted to Hinduism on a car ride to Detroit through a blizzard; neither of us could make the commitment to vegetarianism so we couldn't become full-fledged Hindus. At least in Ravi's eyes - he's very strict that way.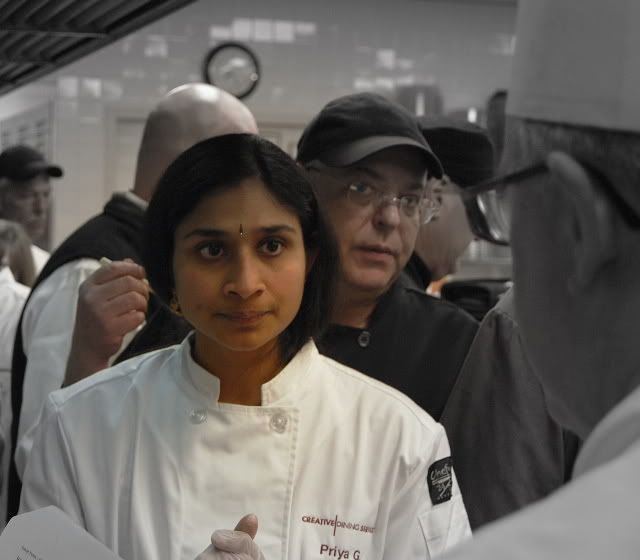 Priya and Steve at a workshop
Ever since that year of learning to cook esoteric Indian food, Chef Steve has cooked a vegetarian Indian dish every weekday morning to be served at his place for lunch. He even cooks the occasional meat dish for the rest of the non-Indian meat eaters he has at his place. Myself, I eat some sort of Indian dish at least two times a week. Sometimes the food is mild yet complex with a mélange of exotic spices and sometimes, like this morning, I found myself wolfing down a bowl of okra and chicken thigh stew that so hot I wanted to stop eating but the flavor was so intense and delicious that I couldn't stop if I wanted to. It was like curry seasoned with gun powder flavored with roasted chicken garnished with deeply earthy okra. Just incredible. True Indian food is a beauty to behold, unique and one of the great cuisines of the world. Eating this food for the last few years has ruined me for the pedestrian fare of most Indian restaurants.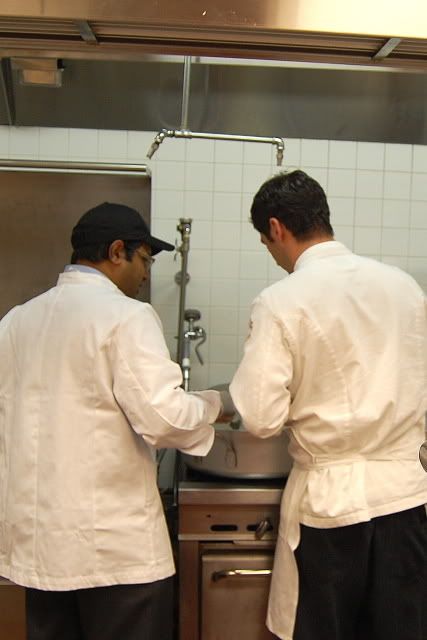 Ravi schooling one of our chefs
So, as a tribute to Swami's promotion, I link you to a few videos from a year ago when I was cooking a faculty retirement dinner for a prof that requested some Indian food. In one video I make a simple curry dish of beans and onions called Rajma Curry and then I make Indian fried rice called Pulau which is done in one form or another all around the world, but the original dish came from South India.
Current Location:

On the Punjab

Current Music:

"Lotus Feet" John McLaughlin