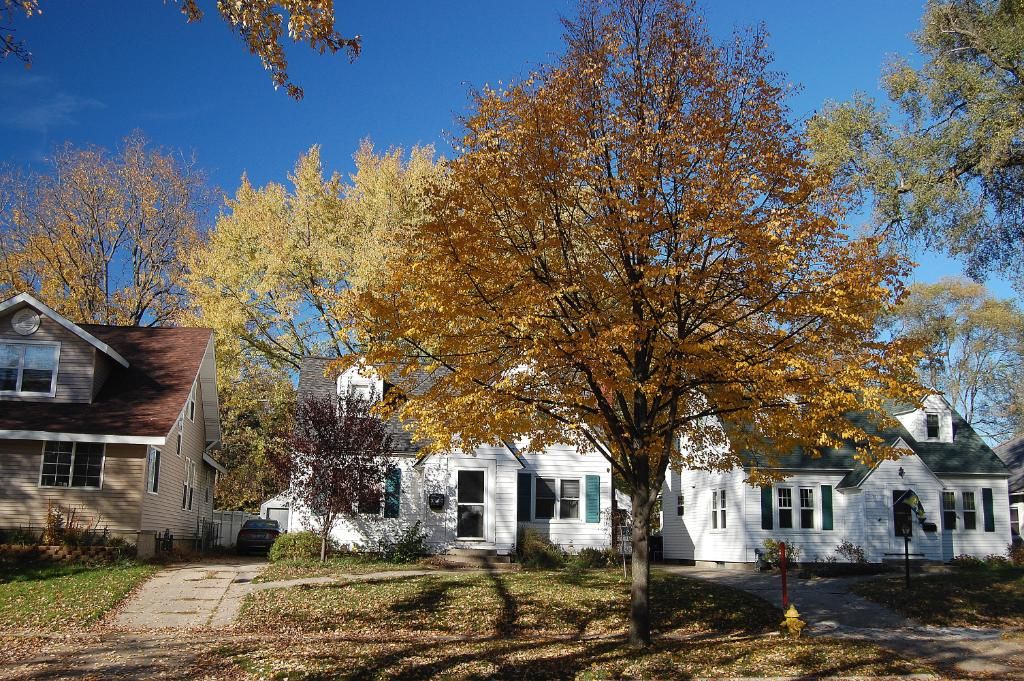 In my ongoing effort to down-size my life I spent a couple hours going through a few "mystery" shoeboxes I found in the basement. I came across this business card from Snoopy's Bar in Cheboygan, MI.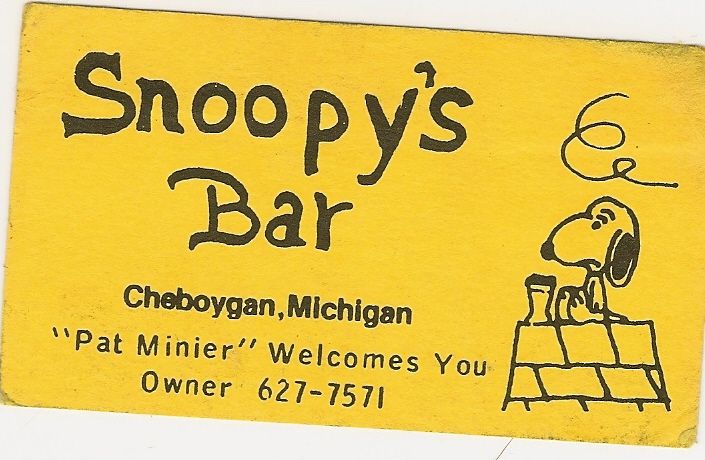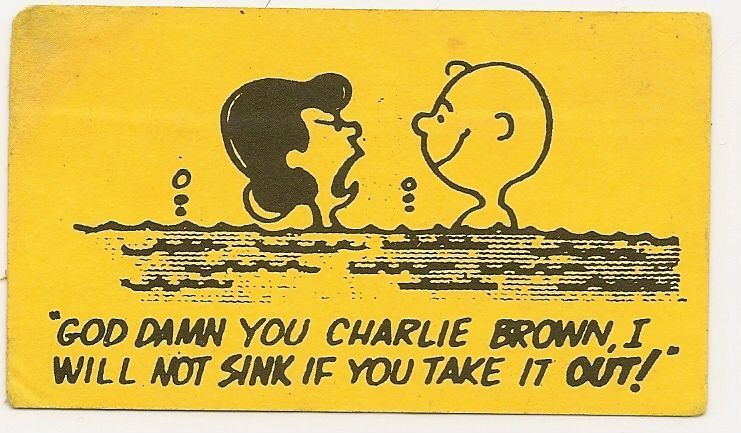 I don't know if the place is still there or not; it's been over twenty years since I've been to Cheboygan and longer than that since I set foot in Snoopy's. The place was one of myriad dive bars I've been in, but this one stands out because it was down the block from the ferry dock to Bois Blanc Island, one of my favorite spots in Michigan. At one point I was seriously considering buying land on the island and building a cabin, but then sanity and a lengthy stay on the island cured me of any idealized vision of moving there.
My wife and I would drive the 6 hours or so from down state up to Cheboygan to catch the ferry over to the island. We used to manage a large, house-sized log "cabin" for some good friends of ours and would have to travel up one or two times a month nearly year 'round to clean, and get the place set up for the next set of renters. Mostly hunting parties and vacationing families.

A lot of times we'd be early into Cheboygan so we could have some dinner at a restaurant and then some drinks at Snoopy's before we got on the ferry. Snoopy's was a sailor's bar usually full of merchant marines, off duty coast guard and sundry ore boat, tug boat and commercial fishing boat crews. The place also housed a large contingent of local rummies, whores and down and outers. Both of us loved dives for their cheap drinks, local color and the sense of desolation. Snoopy's was the sort of place that would be full on a bright summer's day, but being inside you'd never know how nice it was outside because the windows were glass block and both entrances were double door affairs with vestibules in between. The place hadn't had a remodel since Kennedy won the White House; except for the bathrooms, oddly enough. The owner evidently liked a nice bathroom because they were always spotless. I sometimes felt that it would be more sanitary to drink in the johns than it would be sitting out in the gloom of the barroom.
I saw my first knife fight at Snoopy's. It was more like a knife hugging session between supremely drunk fishermen waving their filet knives at each other. They were fighting because the one guy had been screwing the other guy's wife. The woman was sitting at the bar on a stool covered by an acre of her lower quarter. She had a pleasant face covered by gin blossoms and an amazing combination Farrah Fawcett/mullet combo hair-do . She watched with disinterest. A couple of the other patrons broke up the fight and the bartender kicked them both out. The cops never came. I saw several fights in Snoopy's over the three years we frequented the place and never saw one cop. There were times when cops came in off duty for drinks, but I never saw a cruiser come rolling up when there was trouble. Snoopy's was evidently on it's own. Looking back, I'm glad nothing bad ever happened while I was in there drinking my face off.

I've been doing a lot of other writing besides the sort that happens here, hence my absence. I have a backlog of news and tales to tell. Last month I spent ten days vacationing out west in my favorite area of the country – the corridor from Grand Junction Colorado in the east stretching across southern Utah into Nevada and Las Vegas in the west. This includes the country going into northern Arizona and the North Rim of the Grand Canyon. I got hooked on this area a while ago when I went on a hiking trip to Zion National Park with my Brother in Law for his 50th birthday, an amazing place that I try to visit as much as possible. On this trip I spent 4 days in Moab UT hiking in Arches National Park. Canyonlands and Dead Horse Point State Park. While there I took a short half day rafting trip on the Colorado that was amazing fun. This is seriously beautiful country and I advise everyone to visit at least once.
My life as a single parent empty-nester has been an adjustment, but mostly trauma free except for I have to be careful about watching scary movies in a house alone. Z-girl is flourishing at college and has adjusted to the new environment with gusto. I have no idea how she's doing academically – I feel the first semester's a wash anyway. She's just two miles away but I only see her in snippets here and there, which is fine and as it should be. I'm so delighted to see her eyes opening a little further to the wide world out there, she's quite the young woman. We had lunch today and she's full of plans and dreams. She even surprised me by telling me she 's thinking of applying to Target for a summer job which let the door open for me to talk about how the free and easy summers of her youth are probably gone. That's my job – to be the wet blanket that dampens my kid's life party.

Z-girl's boyfriend, R has become a fixture in my life as well as Z-girl's. He's her high school sweetheart. Presently he's at the Chicago Art Institute where he is growing into his potential as an artist. We talk often and text most every day. I have no idea what it will be like if and when he and Z-girl break up and go separate ways. They are young and it very likely could happen. It will be hard, but I will continue to be friends with R. He's such a smart, engaging and talented young man bound for success in the art world; whatever form that may take. I'll likely continue to be friends with his parents as well, which will be a little easier as I don't have as much contact with them as I do R. They are lovely pair of eccentrics who are a blast every time we get together.

Last week I went out to something called Groovewalk, which is a sort of glorified pub crawl only with other sorts of venues involved besides bars. I met up with a couple women from work and eventually with my sous chef and his posse of friends. Went to a lot of cool places I had never been. Did a lot of dancing, drinking and grabass with both of my female co-workers, but practiced some restraint (particularly with the married one). I really like the unmarried woman and in one of the few quiet moments that night jokingly told her that she'd have to quit work before I'd think of getting involved with someone on the job. Been there, it's a nightmare. She laughed, said "Coward." Yeah, that's me. Life's got drama enough without me creating my own shitstorms.

So I checked Google and Snoopy's Bar is still in Cheboygan. They don't have a website though. Surprise.